2020 Transfer Student Success EVENTS


The 4th Annual Virtual Transfer Student Success Summit
is July 6 - July 10, 2020


MONDAY - JULY 6
10:00 am - 11:00 am
Becoming a Leader at SDSU: Finding your Why

Presenter: Dr. Lisa Gates, College of Education
Registration


MONDAY - JULY 6
College of Health & Human Services (CHHS) New Fall 2020 Transfer Students ONLY
12:30 pm - 1:30 pm
Introduction to CHHS Advising - How advising works at SDSU and in CHHS
Meet your CHHS Assistant Dean and Major Adviser

Presenter: Jason Ramirez, Assistant Dean, CHHS

Major Advisers:
Leviticus Johnson and Louise Chatagnier (Exercise and Nutritional Sciences),
Peter Strachwitz and Domenique Maj (Nursing),
Esmeralda Sanchez (Public Health),
Jennifer Cosio (Social Work) and
Taylor Hye (Speech, Language and Hearing Sciences)
Registration


TUESDAY - JULY 7
9:00 am - 10:00 am
Get a Jumpstart on Internships, Employment & the Aztec Mentor Program

Presenters: Dr. James Tarbox, Executive Director, Career Services
Christy Quiogue, Campus Internship Coordinator
Registration


TUESDAY - JULY 7
College of Health & Human Services (CHHS)
12:30 pm - 1:30 pm
Student Engagement in High-Impact Practices for CHHS Majors
(Open to new Fall 2020 Transfer Students and Continuing CHHS Transfer Students)
Presenters:
Dr. Sonja Pruitt-Lord, Associate Dean for Academic Affairs
Amanda Lee (Social Work)
Natalia Peddycoart (Career Services)
Emily Mickelson (CHHS College Council President)
Registration
WED - JULY 8
10:00 am - 11:00 am
Introduction to Global Engagement

Presenter: Karina Araiza, Inbound Exchange Coordinator & Study Abroad Adviser
Registration


WED - JULY 8
12:30 pm - 1:30 pm
College of Health & Human Services - International - Study Abroad Requirement Session
(Open to both new fall 2020 transfer students & continuing transfer students who have not studied abroad)
- Eveything you need to know about meeting this graduation requirement

Presenter: Julie Dugan, Coordinator, International Programs
Registration
THURSDAY, JULY 9
10:00 am - 11:00 am
Introduction to Service Learning
Presenters: Dr. Jill Esbenshade, Dept of Sociology & Dr. Megan Welsh, School of Public Affairs
Registration


THURSDAY, JULY 9
12:30 pm - 1:30 pm
College of Health & Human Services Student Engagement Panel
(Open to new fall 2020 transfer students and continuing transfer students)

Moderator: Kale Rivera
Student Presenters:
Talia Kieu (Public Health);
Ivan Noriega (Social Work);
John Caaway (Nursing);
KenJonae Wallick (Kinesiology);
Chelise Miller (Foods & Nutrition);
Steven Campos (SLHS)
FRIDAY, JULY 10
10:00 am - 11:00 am
Introduction to Tau Sigma Transfer Honor Society, other multi-disciplinary honor societies and the Weber Honors College

Presenters:
Dr. Martha Enciso, Associate Director, Weber Honors College
Rise Diamond, Coordinator, Leadership & Engagement Coordinator
Registration



FRIDAY, JULY 10
3:00 pm - 4:00 pm
CA Promise - Two Year Pledge Session (For new fall 2020 ADT Transfer Students only)

Presenter: Michelle Lopez, Assistant Dean, Academic Engagemet & Student Achievement
Registration

2019 Transfer Student Success Summit (TSSS) Program
Friday, July 19, 2019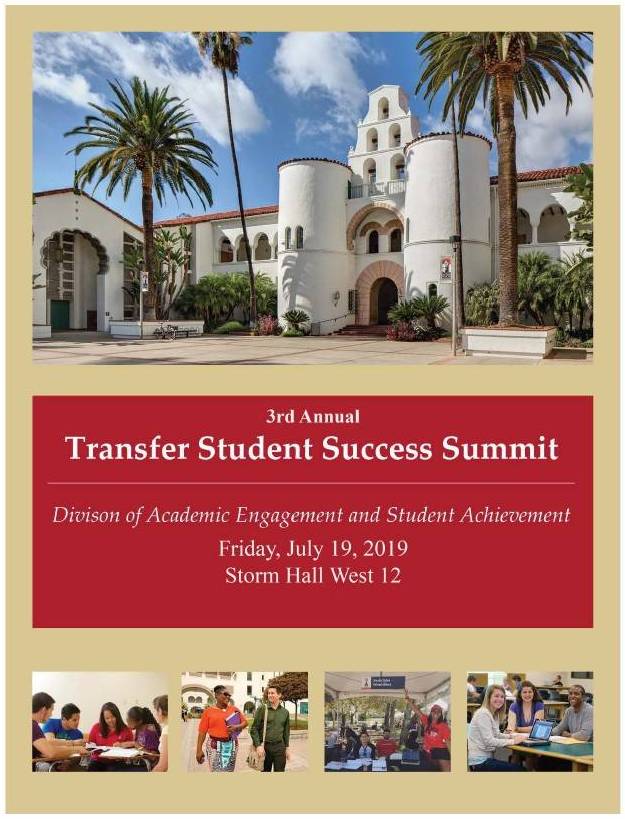 CONGRATULATIONS TO ALL FALL 2020 NEW TRANSFER STUDENTS!
Michelle Lopez, Assistant Dean
Division of Academic Engagement & Student Achievement
[email protected]
Connect with peers who share the same goals as you! Connect with our official transfer student organization. Get involved in a leadership role to help support and advance the success of transfer students at SDSU. Connect!