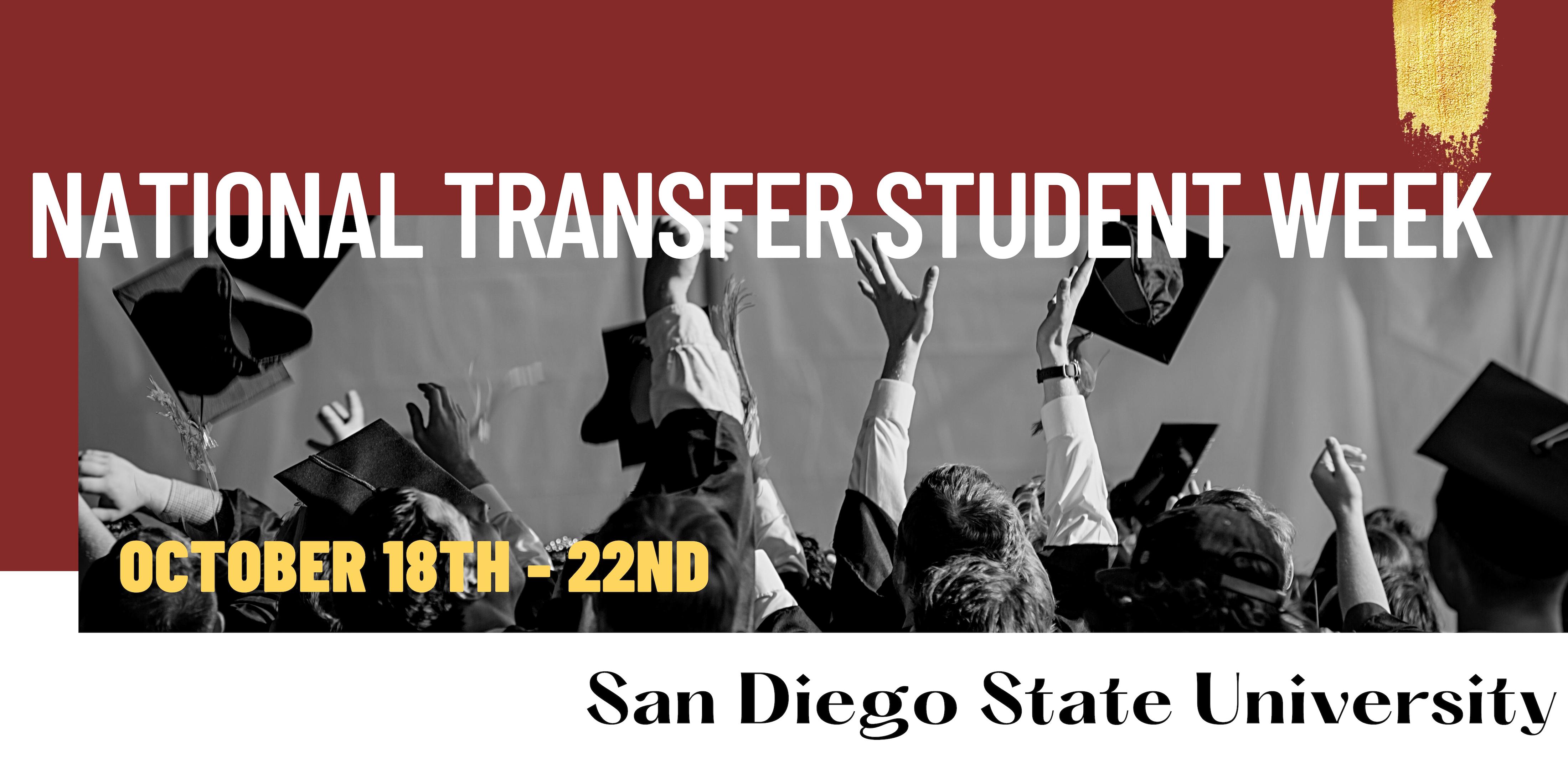 National Transfer Student Week
The purpose of this week is to:
Celebrate San Diego State University's transfer student community and professionals who support them
Continue to build community among our transfer student population
Connect transfer students to administrators, faculty and staff across campus
Highlight transfer student diversity and the scope of their achievements across campus
Share opportunities, including internships, research, international experiences, leadership, and scholarships
Connect transfer student engagement to current and future personal, academic, and professional rewards of engagement
Inform transfer students about Transfer Student Alliance and Tau Sigma National Honor Society (the SDSU Honors Council society for transfer students)
Save The Date For The Upcoming Events (Oct. 18 - 22)
Open to all students. Please note that most in-person events are located in the San Diego campus. Any IV Campus events will be noted in the calendar.
What's Happening During National Transfer Week
More Events Coming Soon!
Interested in hosting an event? Please email our coordinator Brenda Diaz at [email protected]
Previous National Transfer Student Week Partners
Special thanks to the following SDSU divisions, centers, programs, offices and services for their continued support of National Transfer Student Week, coordinated by the Transfer Student Success office in Faculty Advancement & Student Success.
Office of Evaluations
Analytical Studies and Institutional Research
Career Services
College of Arts & Letters Student Success Center
College of Education Office for Student Success
College of Engineering Success Center
College of Health & Human Services (Exercise & Nutrition Sciences)
College of Professional Studies & Fine Arts (Television, Theatre & Film)
College of Sciences Student Success Center
Pride Center
Division of Student Affairs (Research & Assessment Office)
Early Assessment Program
Economic Crisis Response Team (ECRT)
Enrollment Services
Fowler College of Business Success Center
International Student Center
Financial Center
Research & Assessment - Division of Student Affairs
Student Life & Leadership
Tau Sigma National Transfer Student Honor Society-Chapter 184
Transfer Student Outreach Alliance Student Organization
Veterans Center
Weber Honors College
Women's Resource Center